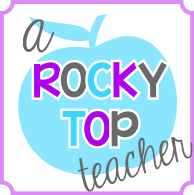 If you have not seen Sarah's video for her Monday Moment you need to go check it out
here
!!
What's your WHY!? Why are you an educator? Sarah shared many of her reasons, and then challenged us to share ours as well.
It is amazing how many of us, even though we are across the country from each other, have some of the same reasons WHY we teach.
Just like Sarah I had some AMAZING teachers growing up. My second grade teacher was a great teacher, but more importantly than that, she has been a great friend. She came to my high school graduation party, was invited to my wedding, and even my baby shower when I had my first son. She is someone that I go visit EVERY TIME I go home. I know she is part of the reason WHY I am a teacher. I wouldn't be where I am today, without her.
Another reason WHY I teach is because of my students. I LOVE kids. I love reaching out to students, and I love that relationship I can establish why my students.
The girl in the top left of this picture is now a junior in high school and she comes over about four times a week so I can tutor her in Algebra 2!
The other three girls are all 9th graders now at different states. The one in the bottom left corner now lives across the country, and every time she comes to visit we meet up for lunch/dinner/movie.
This sweet girl is now a 9th grader too. Her story is so touching, and she has gone through more in her young life than I could even imagine going through. I am very thankful that she still lives in town too, and we meet up for dinner every few months so I can hear all about what is going on in her life. She was just in China over Christmas break, and her hope is to travel to abroad next year to go to a boarding school.
I know I wouldn't be the educator I am today without each of you amazing people as well! I have made some AMAZING friends on IG, and in the blogging world! You all inspire me, and keep me going EVERY SINGLE DAY! I know I keep saying it, but I really can't wait until Vegas when I am able to meet up with so many of these amazing people again!