Good morning everyone!!
I am excited to be linking up with Trina from
Ordinary to Extraordinary Classroom
.
This week we are talking about our motivating workout tunes!!
I don't know how much help I can be this week, because I have a confession . . . I don't workout! I hate running, hate it! We have an elliptical in our garage, but we can't use it.
During the school year I would try and walk two to three nights a week, but I would walk with my neighbor, and of course we would chat the whole time!
When I can work out, or I should say, when I DO workout I love music that has a fast tempo so it keeps me going. I like a variety of music too!
I can't wait to see what some other people are listening to when they work out, and hopefully it will help me get my act in gear!!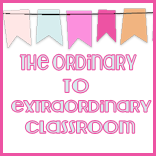 I am also excited to be participating with
The Teaching Tribune
again this week for Two for Tuesday!
Today I am putting my best seller, and my newest product 50% off, just for today!! I love both of these products, and am so excited for you to love them too!!
The first one is my best seller,
Superhero Math
!!
I made this product for us to use on Superhero day at school. It is a set with activities for both first and second grade in mind. The skills included are adding, subtracting, multiplication and division fact families. You would then be able to use this between 1st and 4th grade depending on what time during the year you wanted to use it!
The other product 50% off today only is my newest product and one I am super excited to put to use in my classroom this year!! My
thankful cards
are a great addition to your classroom so you can remind students how much we have to be thankful for!!
As of right now there are 25 cards in the pack, with 12 color cards, and 13 black and white versions. I am planning on using these weekly and then displaying them and putting them together for students so at the end of the year they will have a collection of things they are thankful for!! Look for my classroom reveal coming up and you will see how I display these in my classroom!
Make sure to head over to the Teaching Tribune so you see what else is 50% off today!!