I am loving my 12 days of Christmas series! I hope that you have been enjoying it as well!
Today I am so excited to introduce you to Lindsey! Lindsey from
Thriving in Third
! She is also a blog designer at
L Paull Designs
. Lindsey designed my blog for me, and I LOVE IT!!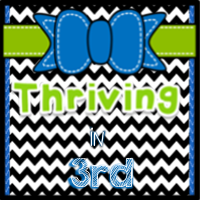 Here is a sneak peek into a little bit about Lindsey, and who she is!
I love how Lindsey celebrates Christmas in her classroom! I love spoiling people, especially kids!
In my classroom, I hand out gifts the morning of the last day before break (books from scholastic, new school supplies like crayons, dry erase marker, pencils, gloves because many don't have any, etc) that are wrapped up. It's so fun seeing the kids open them. So many of my kids have very little at home and some will get nothing on Christmas so I tend to spoil them quite a bit with their gifts. I of course have a small tree in my room where I stick all the presents under, too! :) They love seeing the gifts that have THEIR name on it!
I hope that you have enjoyed getting to know Lindsey a little bit better, and are as excited about her as I am! Lindsey is an amazing friend, great teacher, and amazing designer! She is getting married next June, and she just shared her engagement pictures on her IG! Can I just say, BEAUTIFUL!!
Make sure to go follow Lindsey so you can hear about her planning her wedding, her new beautiful blogs she creates, stories from her classroom, and her amazing products she shares with us!!
Thank you Lindsey for being such an amazing blogging friend, and for sharing your amazing work with us!